Shape Collage Story: Tearjerker Christmas Present
Here is a great story by Joshua who used Shape Collage to make a touching Christmas gift for his parents: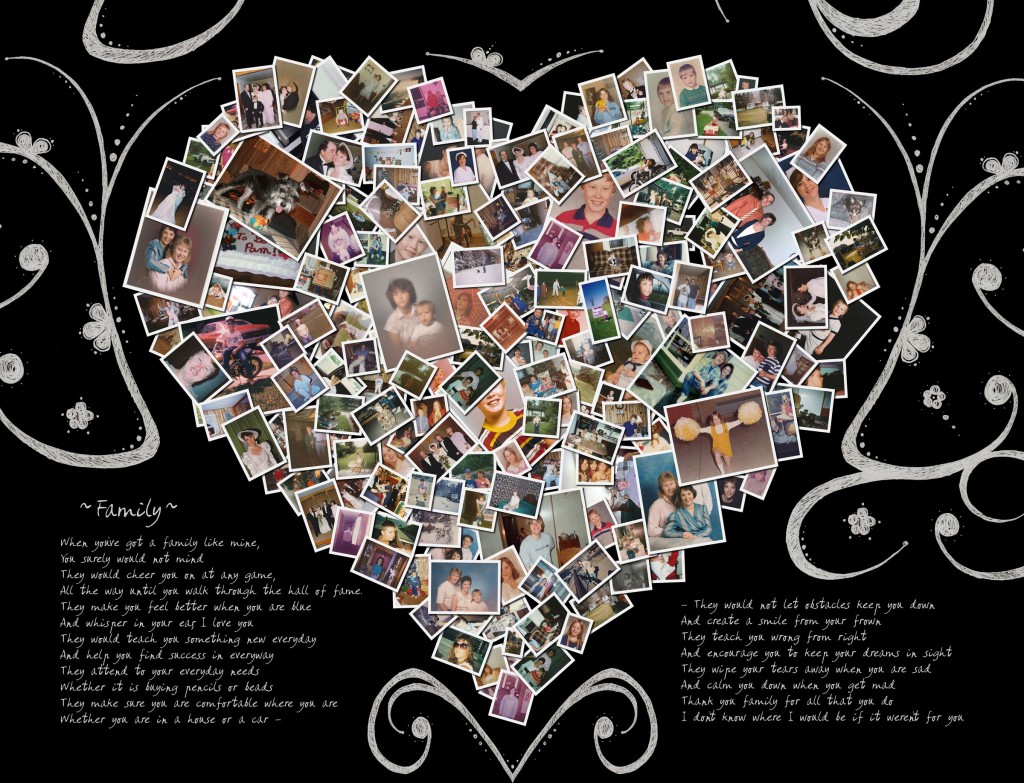 Shape Collage will make my mom cry…seriously.
Not that this is a bad thing because I figured this year's Christmas present will be a serious tearjerker. Basically, my idea for Shape Collage was to make a collage out of family memories of the last 40 years or so. I went through probably 5,000 old family photos from all of my grandparents to find pictures of my parents from when they were young. I also went through pictures that my parents had to find some from their wedding and of me when I was younger. I found pictures that I am sure they don't even know exist. In all, I had around 220 photos for the collage. I then began the tedious process of scanning all of the photos.
After I got the settings just right in Shape Collage I let it create the heart shape. Shape Collage is a blessing because it let me output a file large enough for the final print and it also let me output a .psd so I could make adjustments to each photo. Brilliant. Next I got a poem about family and layed it out beside the collage. Lastly, I made some pen and ink swirls to accent the collage.
The entire file ended up over 50" wide and over 40" high @ 300dpi. After I had the layout exactly how I wanted it, I had the entire thing printed onto canvas and gallery wrapped around a wooden frame. I attached the final piece to show you how your wonderful tool will help me make my mom cry this Christmas.

I also had each picture from the collage reprinted on 4″x6″ and I made a family photo album to go with my collage so you can get a good look at all the 200+ photos.
Thanks for making such an awesome tool. If I had to do the heart layout myself it would have taken a month and probably a new computer because the final piece was over 500MB. Shape Collage rocks and is well worth the price.
———
Thanks for sharing your story Joshua!  We're really happy that we were able to help you make such an amazing gift!
Do you have a Shape Collage story?  Share your story with us!