Birthday Collage Poster
Here's a fun idea from Heidi, a Shape Collage fan, and mother of four young kids, in Minneapolis: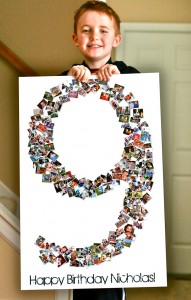 I discovered Shape Collage a couple of weeks ago and have been having such a great time using it! Last week I used Shape Collage to make a ninth birthday present for my oldest son, Nicholas. I took 160 images—from the first photos of him at the hospital the day he was born, all the way through his basketball game a couple of weeks ago—and made them into a "9" using the "Text" option in Shape Collage's "Shape and Size" menu. Because I wanted to create a poster-size print, I manually set the collage size to 20 x 30 inches in the "size" menu. So easy!
I used an image editor to add "Happy Birthday Nicholas!" to the bottom of the image. (I love how Shape Collage lets you use your favorite image editor—whether it's Photoshop, Picnik, Gimp, Picasa or whatever—and allows you to "own" the collage digital file to do with what you wish.) Then I uploaded it to my favorite photo developer, picked it up two hours later for just $25, and had it waiting on the kitchen table for Nicholas to see when he came down for his birthday breakfast the next day.
He really loved it. He and his brothers pointed out photos to each other all day, and it was a wonderful way to reminisce as a family. That night he actually said to me, "This is the second best present I've ever gotten." (The "best" present, he later informed me, was the Wii he got last year. You have to appreciate the kid's honesty!)
For years I've been scrapbooking and making photo books using online publishers. I have to say, Shape Collage is the fastest, most fun way I've ever discovered to make fantastic things out of our digital images. I can hardly wait to do my next Shape Collage project, a Valentine's Day heart for my husband!
———
We love hearing stories like these! Thanks for sharing Heidi!
Do you have a Shape Collage story?  Share your story with us!